Legacy Stacklights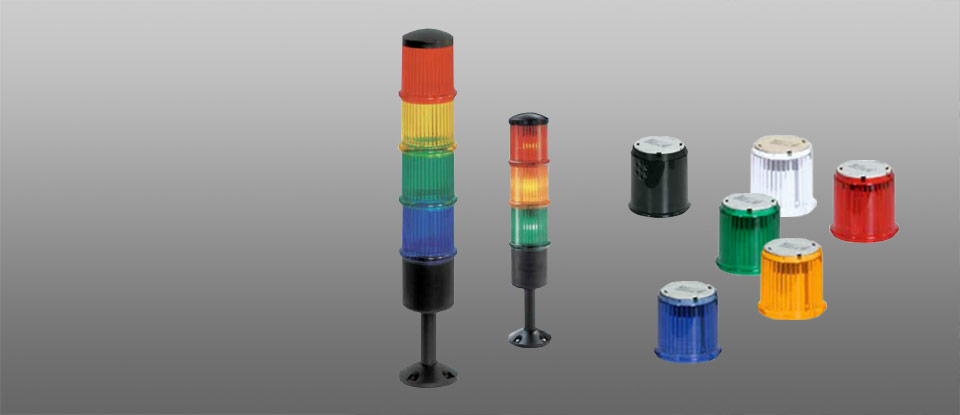 SL Series Stacklights
For many applications, warning lights are one of the most important but overlooked elements of a well-designed control system. That's why Moeller SL stack lights are designed from the ground up with great operational features and reliability in mind.
Solid Design, Solid Construction
SL stack lights are designed with tough 60mm Polycarbonite modules that incorporate ribbed Fresnel-type lenses to enhance illumination. Base modules include an integrated terminal block for quick and sure wiring. Each stacking module plugs into the one below with simple bayonet stabs. A quick turn secures the modules in place with no need for tools. Optional gaskets provide environmental protection to IP65.
Stacking Convenience
Up to five levels of modules are possible with SL stack lights. Each module can be activated separately, or simultaneous with another… when a light and audible alarm must both trigger at the same time for instance. Each module is designed with a built-in jumper in its base that makes it easy to change positions in the stack without the hassle of rewiring. Simply unplug the jumper from its current position (1 through 5) and plug it into the new position.
Choice is a Good Thing
Applications indicating ON/OFF status might require a simple continuous light, which can either be incandescent or long-life LED (up to 100,000 hours). Both bulbs may also be placed in a flashing module for more urgent notification. A strobe module is also available for maximum illumination and visual impact. Finally, an audible alarm module provides a tone of up to 90db for applications where the operator might not always be in sight of the machine or process.
SL-100-L-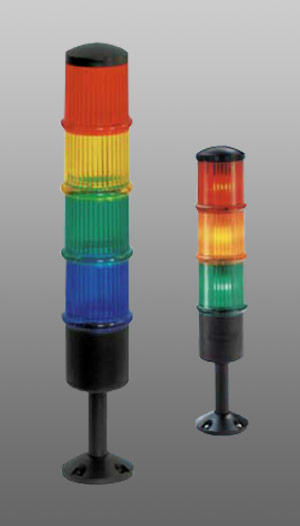 Complete Devices
IP54
Base module with stand and 100 mm tube
Includes filament bulbs
SL Stacklight Light Modules
SL Base Modules, Extenders, Acoustic Modules and Bulbs
Base Module
Extension
Acoustic-Tone
Acoustic-Pulsed Tone
LED's
Filament
Screw Terminals
SL-B
100 mm, plastic
SL-F100
12-36V AC/DC / 8-12mA
SL-A24
12-36V AC/DC / 8-12mA
SL-AP24

18-30V AC/DC/13-50mA

White: SL-LED-W
Red: SL-LED-R
Green: SL-LED-G
Yellow: SL-LED-Y
Blue: SL-LED-B
24V
SL-L24
100 mm, metal
SL-F100M
Cage Clamp
SL-CB
250 mm, plastic
SL-F250
110V - 130V
SL-L130
250 mm, metal
SL-F250M
110-230V AC/DC / 4-8mA
SL-A110-230
110-230V AC/DC / 4-8mA
SL-AP110-230

110-230V AC / 9-17mA

White: SL-LED230-W
Red: SL-LED230-R
Green: SL-LED230-G
Yellow: SL-LED230-Y
Blue: SL-LED230-B
Connection to
AS-Interface
SL-B-ASI
400 mm, metal
SL-F400
200 - 260V
SL-L230
800 mm, metal
SL-F800
SL Accessories
Accessory
Description
Part Number

for 90º wall mounting
metal

SL-FW
Accessory
Description
Part Number

For increasing degree of protection to IP65
set of four (for three modules - not for use with acoustic indicators)

SL-IP65