Moeller PS416-CPU
CPU Cards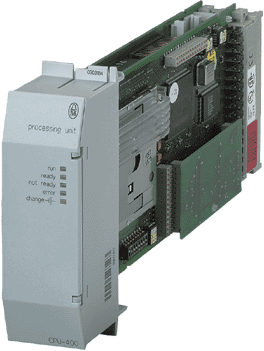 PS416-CPU-400 Shown

Application
The PS416-CPU processes and saves PLC programs.
The Sucosoft S40 programming software is used
to program the PLC for complex automation solutions.
Features
Space required: 2 slots
16-bit microcontroller with RISC architecture
36 MHz clock frequency
Loadable, modular operating system
Cycle time/instruction: approx. 0.5 s for standard bit,
byte and word commands
Real-time clock
The operating system is stored in a separate memory range
that is reserved for this purpose
Two mutually independent batteries prevent data loss for
at least six months. Batteries must be ordered separately
Dynamic memory management
Floating-point arithmetic
Provides the user program memory
Through the Suconet K interface, the PS416 can be
- Expanded with local and remote inputs and outputs
- Networked with intelligent slaves
- Connected to operator and display units
The programming interface of the PS416 can be configured for use as:
- A point-to-point connection through RS 232C
- An RS 485 multi-drop interface. Several PS416s can be networked
and programmed centrally with a programming device.
Networking/expansion
Networking/expansion through an SBI interface
Interfaces
Connection through 9-pin SUB-D socket
PRG interface:
- As RS 232C interface
- Length of programming cable max. 10 m
- Number of stations max. 1
- As RS 485 interface
- Length of programming cable max. 600 m
- Number of stations max. 30

SBI interface
- Suconet K mode
- Length of the data cable max. 600 m/187.5 Kbit/s or 300 m/375 Kbit/s
- Number of stations max. 30
- Transparent mode
- Length of data cable max. 1200 m
- Number of stations max. 1
PS416-CPU-x00, CPU
PS416-POW-4x0, Power Supply Card
PS416-BGT-4xx, Rack
Hardware and Engineering 02/98 AWB27-1208GB with
supplement 11/01 BL2700-8800
[1.3 MB] - [26.11.2001]
Let our expert sales staff guide you through finding the right products to fit your needs. CALL 866-595-9616.
© 2016 KMParts.com, Inc. All rights reserved.