Eaton/Moeller
FAK-R
Stay-Put Foot and Palm Switch
Pull to release, Emergency-stop actuator tamper-proof
to ISO 13850/EN 418
Each enclosure base will hold up to three contact elements, as shown below.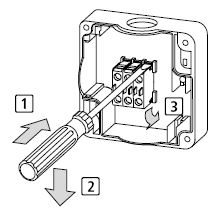 Product Image

Part Name
Contacts
Contact Sequence
Normally
Open
Normally
Closed

FAK-R/V/KC01/IY
--
1B
FAK-R/V/KC11/IY
1M
1B
FAK-R/V/KC02/IY
--
2B

Stay-put
Release by button on the side For Emergency-Stop applications according to ISO 13850

FAK-R/V/KC11A/I
1M
1B

FAK-R Dimensions




FAK-R Catalog Page
Let our expert sales staff guide you through finding the right products to fit your needs. CALL 866-595-9616.
© 2016 KMParts.com, Inc. All rights reserved.