Used to electrically operate the PKZ2. Line voltage control.
OFF and RESET separate.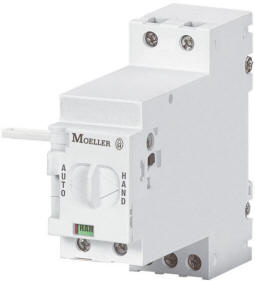 Line and control feeds have the same potential. The control section can be energized by a single impulse of 15 ms duration, or by a maintained contact. Upon energizing, the line connection draws its power requirement (700 VA/W for a duration ms 30 ms) directly from the line.

Control section can also be actuated via auxiliary contacts from various Moeller Electric components: NHI, AGM, ETR4-VS3, EK... and dry output contacts from PLCs with no RC filter type surge suppression.