EATON Freedom Series NEMA Contactors & Electric Motor Starters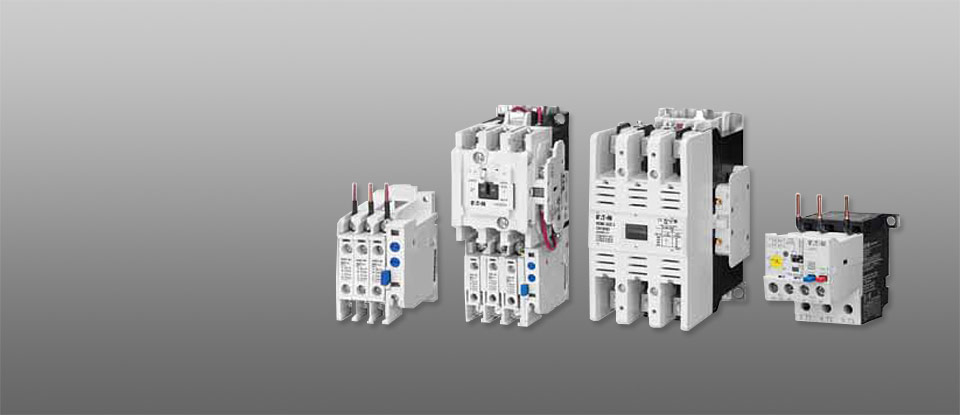 Product Overview
Freedom Series starters and contactors feature a compact, space-saving design, using state-of-the-art technology and the latest in high strength, impact and temperature resistant insulating materials.
Features, Benefits and Functions - Freedom NEMA
Adjustable bimetallic ambient compensated overload relays with interchangeable heater packs—available in three basic sizes, covering applications up to 900 hp—reducing the number of different contactor/overload relay combinations that have to be stocked. Fixed heater overloads are optional
Electronic overload relay (C440) available as a standalone unit and assembled with Freedom Contactor
A full line of snap-on accessories— top and side mounted auxiliary contacts, solid-state and pneumatic timers, and so on
Straight-through wiring— line lugs at top, load lugs at bottom
Horizontal or vertical mounting on upright panel for application freedom
Screw type power terminals have captive, backed-out self-lifting pressure plates with ± screws—reduced wiring time
Accessible terminals for easy wiring. Optional fingerproof shields available to prevent electrical shock
Top located coil terminals convenient and readily accessible. 45 mm contactor magnet coils have three terminals, permitting either top or diagonal wiring—easy to replace European or U.S. style starters or contactors without changing wiring layout
Designed to meet or exceed NEMA, UL, CSA, VDE, BS and other international standards and listings
American engineering— built by Eaton, using the latest in statistical process control methods to produce high quality, reliable products
Sized based on standard NEMA classifications
Easy coil change and inspectable/replaceable contacts
Available in open and NEMA Type 1, 3R, 4/4X and 12 enclosures
Standards and Certifications
Standard: designed to meet or exceed UL, NEMA, IEC, CSA,
VDE and BS
UL listed: UL File #E1491, Guide #NLDX—Open and NEMA
1, 4, 12 Enclosed
CSA Certified: CSA File #LR353, Class #321104 Open and
NEMA 1 Enclosed
ISO 9000 Certification
When you turn to Eaton's products, you turn to quality. The International Standards Organization (ISO) has established a series of standards acknowledged by 91 industrialized nations to bring harmony to the international quest for quality. The ISO certification process covers 20 quality system elements in design, production and installation that must conform to achieve registration. This commitment to quality will result in increased product reliability and total customer satisfaction.
Short Circuit Protection
Fuses and Inverse-Time Circuit Breakers may be selected per Article 430, Part D of the National Electrical Code to protect motor branch circuits from fault conditions. If higher ratings or settings are required to start the motor, do not exceed the maximum as listed in Exception No. 2, Article 430-52.