Eaton Space Saver - NEMA Contactors, Starters & Overload Relays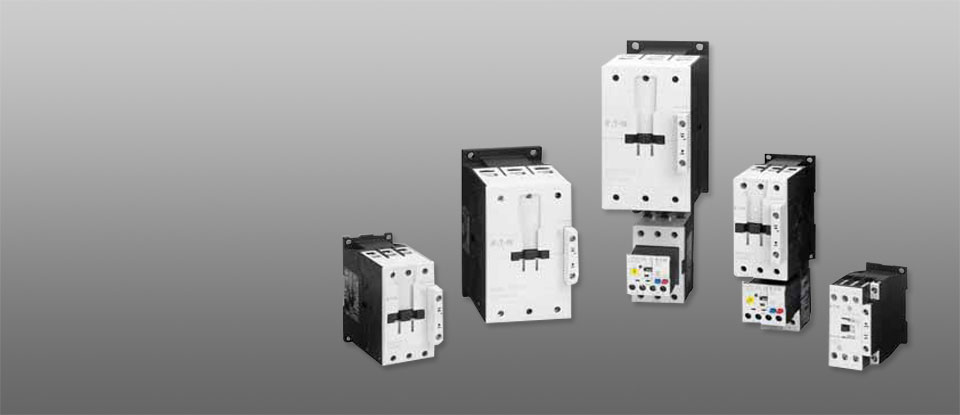 NEMA Space Saver Series - Contactor and Starter Product Description
The Eaton NEMA® Space - Savings line of contactors and starters includes nonreversing and reversing contactors, electronic overload relays and a variety of related accessories. Because the Space-Savings family meets IEC, UL®, CSA® and CE standards, it is the perfect product solution for applications all over the world. The compact and easy to install Space-Savings line of NEMA contactors and starters is the efficient and effective solution for customer applications from Size 0 through Size 5.
Application Description
The Space-Savings line of NEMA power control was engineered to provide highly effective control and protection for a variety of loads, including motors, compressors, pumps, resistive, capacitor banks, isolation and others. The Space-Savings contactors are perfectly suited for use in Motor Control Center applications where bucket space sizing is critical. With both AC and DC control and flexible communication options, the Space-Savings family can be easily integrated into various customer applications.
Standards and Certifications
IEC EN 60947
CE approved
UL
CSA
ATEX
RoHS
Features and Benefits
AC control from 120V to 600V 50/60 Hz
24 Vdc control
Reversing or non-reversing contactors and starters
XTOE self-powered electronic overload relay
Non-reversing starters to NEMA Size 5
Panel or DIN rail mounting to NEMA Size 2
IP20 finger and back-ofhand proof
Large ambient temperature range, –25 to 50°C [–13 to 122°F]
AC and DC controlled contactors in the same compact frame
Low power consumption AC and DC coils
Built-in NO or NC auxiliary contacts to 32A
Plug-in accessories for reduced installation time
Coil replacement on NEMA Size 0–5
Contact replacement on NEMA Size 1–5
Integrated suppressor NEMA Size 0–4 DC operated contactors and NEMA Size 5 AC and DC operated contactors