Engineering
Moeller Contactors covers the performance range up to 170 A with four sizes and three installation widths (45 mm up to 32 A, 55 mm up to 72 A and 90 mm up to 170 A). The smallest frame size as a contactor relay and contactor is an excellent compromise between minimum dimensions, higher physical performance capability and additional handling advantages.
Contactors are devices for world markets. They have UL and CSA approvals.
As the main circuit wiring is generally implemented first in power distribution systems using thick wiring and solid wiring cross-sections, the coil connections which have been moved forward play their part in assuring rational wiring.
Mounting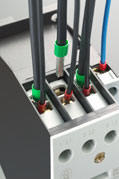 DILM contactors up to 170 A feature box terminals with two clamping chambers. Differing conductor cross-sections can be safely wired – even on machines subject to strong vibrations – using this feature.
Moeller also offers the tried and trusted quality in the area of spring-loaded terminals. Up to 12 A the main and control circuit terminations and from 12 A the control circuit terminations are available with spring-loaded terminals.

Tests prove that contactors and motor-protective circuit-breakers can be just as safely wired in this manner as with screw terminals – even on machines subject to extreme vibration. However, wiring with spring-loaded terminals can be implemented much faster.
Contactors with DC and AC operation now have identical geometries. This facilitates a common range of accessories which is independent of the voltage.
Operation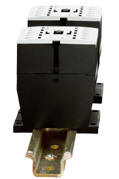 All DC operated contactors also have an integrated suppressor. The actuation voltage tolerance of the DC operated contactors exceeds the requirements of the IEC standards and provides optimum protection with under voltages and over voltages.