Klockner Moeller
KV2-NZM10
Mechanical Interlock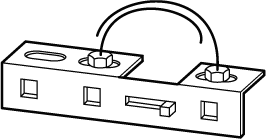 For mechanically interlocking two NZM10 circuit breakers or molded case switched mounted in a panel. Fits toggle operators or rotary drive mechanisms. R-NZM10 must be electrically interlocked at the same time.


Let our expert sales staff guide you through finding the right products to fit your needs. CALL 866-595-9616.
© 2016 KMParts.com, Inc. All rights reserved.