Moeller PS416-POW-410
Power Supply Cards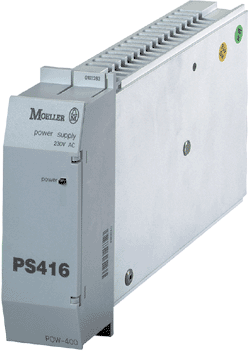 PS416-POW-400 Shown


| | | |
| --- | --- | --- |
| Supply Voltage | Internal System Voltage | Internal System Current |
| 24 VDC | 5 V | 10 A |
Application
The PS416-POW-410 uses the external supply voltage to supply the stabilized 5 V system voltage required to operate the PS416.
Features
Space required: 2 slots
The PS416-POW-.. is placed in the left most slot of each rack
One PS416-POW-.. can be fitted in each rack
Generates the PFI (power fail indicator) signal, which signals a voltage dip on the primary side to the CPU, thus allowing the data to be saved in time
The supply voltage is connected through screw terminals
An LED indicates whether or not the supply voltage is present
An integrated filter suppresses interference
The supply voltage and the internal bus are isolated
The PS416-POW-.. complies with protection class 1
Back of hand proof and fingerproof terminals to VDE 0106 Part 100
PS416-CPU-x00, CPU
PS416-POW-4x0, Power Supply Card
PS416-BGT-4xx, Rack
Hardware and Engineering 02/98 AWB27-1208GB
with supplement 11/01 BL2700-8800
[1.3 MB] - [26.11.2001]
Let our expert sales staff guide you through finding the right products to fit your needs. CALL 866-595-9616.
© 2016 KMParts.com, Inc. All rights reserved.