Moeller
PS416-NET-400 Suconet K Card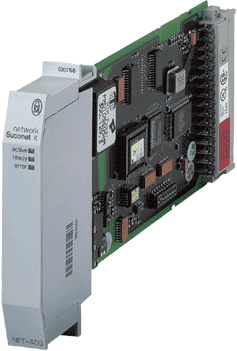 Application
The PS416-NET-400 Suconet K card allows communication
either as master or slave with all devices supporting the
Suconet K or Suconet K1 protocol.
Features
Space required: 1 slot
Intelligent card with its own processor. Protocol processing
does not mean any additional burden on the cycle time
of the PS416.
Automatically switches between Suconet K and
Suconet K1 depending on the respective communication partner
Master or slave station

Organizes communication between the Suconet K card
and the stations via Sucosoft S40

Remote I/O are addressed in the same way as local I/O

Intelligent I/O are addressed with Send Data (SD)
and Receive Data (RD) commands

Telegram consistent data transfer

Isolated RS 485 interface

Links the expansion rack to the base unit in the PS416 system

Up to 8 cards can be used as master or slave
in the basic unit (calculate current requirement)

1 card can be used as a slave to link to the basic unit
in the expansion rack.

When used as the first or last physical station on
the Suconet K line, the bus terminating resistors must be activated
The Suconet K card is configured with the
Sucosoft S40 Topology Configurator
Let our expert sales staff guide you through finding the right products to fit your needs. CALL 866-595-9616.
© 2016 KMParts.com, Inc. All rights reserved.