Moeller PS416-INP
Digital Input Card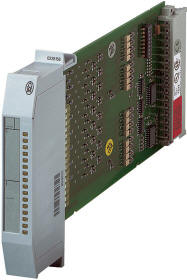 PS416-INP-400 shown

Signal Voltage
Connection Points
Semi-Conductor Inputs
On-Delay Normally
Off-Delay Normally
PS416-INP-400
24 VDC
16
3.0 ms
3.0 ms
PS416-INP-401
24 VDC
16
0.2 ms
0.2 ms
Application
The PS416-INP digital input cards detect local signals for medium-sized and large machine and plant controls.
Features
Space required: 2 slots
Addresses are defined separately with coding switches on the card
The card is configured with the S40 Topology Configurator
16 inputs
16 Status LEDs for the inputs
Potential isolation of all inputs through optocoupler
Labelling field for individual designation of inputs
Plug-in screw terminals allow prewiring of the plug connectors
Integrated RC circuit for interference suppression
Can be used in basic unit and expansion racks of the PS416
Provides input information on the local bit bus


PS416-INP-40x, PS416-OUT-4xx
Digital Digital I/O Card
Hardware and engineering
01/00 AWB27-1239-GB
[683 KB] - [30.10.2001]
Let our expert sales staff guide you through finding the right products to fit your needs. CALL 866-595-9616.
© 2016 KMParts.com, Inc. All rights reserved.