Moeller PS416-BGT-420 Rack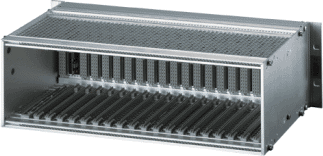 Surface/Flush
Mounting
Free Slots
Surface Mounting
19

Application
For mounting PLCs. All PS416-BGT-420 racks can be used as a base or expansion rack.
Features
Provides slots for the cards
Protects the cards from mechanical stress and electromagnetic
interference and emissions
Provides the internal bus for exchanging signals between the cards
Monitors the voltage, and generates the watchdog enable signal
for the internal bus
Each rack is fitted with a PE terminal for grounding faults
A potential equalization bar can be mounted For connecting
screened cables and grounding interference.
The expansion rack is linked to the basic unit through Suconet K
The expansion rack can be fitted with:
- Power supply card
- Suconet K card
- Digital and analog I/O cards
- Counter cards
PS416-CPU-x00, CPU
PS416-POW-4x0, Power Supply Card
PS416-BGT-4xx, Rack
Hardware and Engineering 02/98 AWB27-1208GB with
supplement 11/01 BL2700-8800
[1.3 MB] - [26.11.2001]
Let our expert sales staff guide you through finding the right products to fit your needs. CALL 866-595-9616.
© 2016 KMParts.com, Inc. All rights reserved.