Moeller PS416-AIN-400
Analog Input Card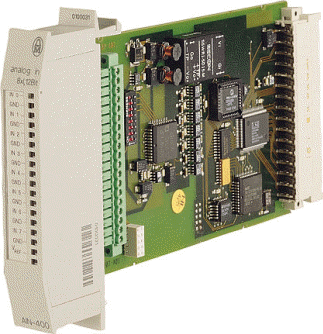 Input Voltage

Input Current

Connection Points

Resolution

0 ... 10 V
10 V
0 ... 5 V
5 V
Channel
4 – 7
0 ... 1 V
Channel
0 – 7

0 - 20 mA
or
4 -20 mA
8 Inputs
12-bit max.
The PS416-AIN-400 analog cards detect analog measured values.
Features
Space required: 1 slot

Potential isolation to PS416 internal bus

Plug-in screw terminals; making it possible to pre-wire the
plug connectors

Resolution max. 12-bit or 4096 increments

Pre-selection of various resolutions for optimum matching
to the controlled process

Signal measuring points for measurements with external
measuring devices

The measured values are available either in the user program as
normalized values (mV, mA) or as non-scaled values (0 to 4095)

Can be used in basic units and expansion racks of the PS416

No external power supply for the card

Inputs are protected from excessive voltages and currents

Total error of voltage and current I/O (0 to +55 °C) normally 0.4 %;
deviations due to interference up to 10 % (interference clas
Engineering notes:
The setting of the measuring ranges (configuration), output ranges,
resolution and scan times is carried out in the Sucosoft S40
Topology Configurator.
ONlY use screened twisted pair cable with an external diameter of max. 10 mm.
Recommended cables:
- Metrofunk Kabel-Union, Berlin, type 08 e.g. 8 × 2-08
(8 × 2-wire, 0.08 mm each)
- HPM, Ditzingen, type Paartronic CY; e.g. 8 × 2 × 0.14 mm
(8 × 2-wire, 0.14 mm each)


Recommended measuring heads:




- Hirschmann type Prof1, article no. 931 376-100 (black) or 931 376-101 (red)




-

Bürklin, article no. 35F114 (black) or 35F115 (red)
Let our expert sales staff guide you through finding the right products to fit your needs. CALL 866-595-9616.
© 2016 KMParts.com, Inc. All rights reserved.