EATON Molded Case Circuit Breakers (MCCB)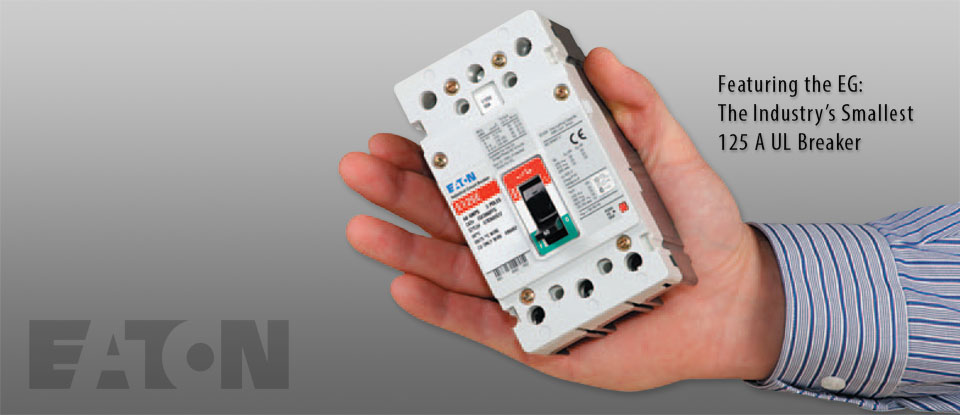 Eaton Molded Case Circuit Breaker Product Overview
Eaton's Electrical Sector, under the Eaton brand, offers the widest variety of molded case circuit breakers available today. Designed for electrical and machinery OEMs serving a range of industries and applications, these proven designs incorporate the latest in innovation with the high reliability that has been our hallmark since the advent of the circuit breaker in the 1920s.
The Series C family ranges from 15–2500 amperes, and includes thermal-magnetic breakers, electronic trip breakers, molded case switches, motor circuit protectors, and specially designed breakers for engine generator, DC and mining applications.
The new Series G line features an average 35% size reduction, common field-installable internal accessories, and advanced trip unit functionality that eliminates the need for rating plugs. These breakers meet the requirements of ULC©, CSA©, IEC, CCC and CE, allowing the OEM to standardize on a design that meets the needs of their global customer base.
Application Description
Eaton molded case circuit breakers cover the widest range of applications in the industry:
Electrical OEMs
Machinery OEMs
Navy breakers:

UL 489 Supplement SB
MIL-C-17588
MIL-C-17361
ABS/NVR

Mining breakers up to 1100 Vac
Earth leakage
DC breakers 125–750 Vdc
Engine generator breakers 15–1200 amperes
Current limiting breakers
Typical Applications
Machine Tool Control Panels and Motor Control Centers
Designed for these equipment requirements, including new world-class accessories.
Panelboards
As both main and branch circuit protection devices.
Feeder Pillars
In distribution systems to provide main and branch circuit protection.
Switchgear
In distribution systems to provide main and branch circuit protection up to 2500 amperes (RG-Frame).
Busbar Trunking Tap-Offs
In busbar trunking tap-offs to provide circuit protection.
Individual Enclosures
Completely assembled in enclosures to meet specific customer requirements.
Additional Applications
Special versions of each Eaton frame are available to provide safe equipment control and protection in mining and other applications. Contact your Eaton agent or distributor for additional information.